How to download or save photos from Instagram
Instagram's more than one billion users upload over 100 million photos to Instagram every day. If you're one of the billion, It's not surprising to want to save Instagram photos and use them for yourself. The good news is that you can. Whether creating a personal travel bucket list album, or saving your personal Instagram posts in the event that you lost the original file, or you're planning to delete your account and need copies of your images, or If you want backups of all your Instagram shots, or — gasp — your phone was stolen and the only copy you have left is the one you posted on Instagram — getting photos from Instagram is possible. Whatever your reasons are, it's good to know Instagram's strict rules regarding copyright.
It can be tricky to save those photos to your phone or computer as there's no 'save photo' option to prevent copyright issues.
There are multiple ways to download your Instagram content which includes bookmarking, web tools, using third-party apps, and Instagram's official process to download data. Before running through the other options, we will see Instagram's own way of downloading data.
Downloading Your Instagram Data
Instagram has a way that lets you download all of your data — photos included — in one go.
Step-by-step instructions:
Go to your Instagram profile and select 'Settings' (gear icon).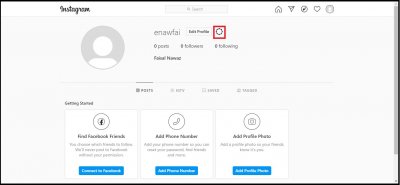 Click on the 'Privacy & Security' tab.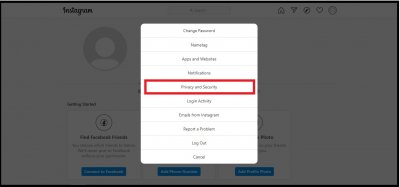 Scroll down and click on blue 'Request Download' as shown in the picture.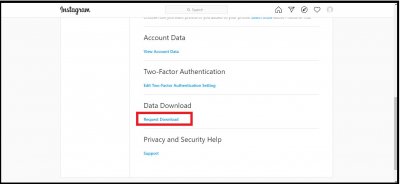 Enter the email address where you would like to receive a link to your Instagram data, and click on 'Next'.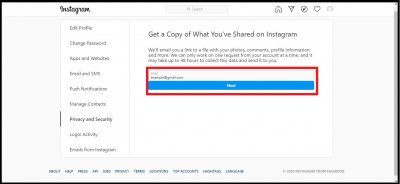 Enter your password and click on 'Request Download'.
Within 48 hours you should receive an email with a link to your data, titled 'Your Instagram Data'. Click 'Download Data'.
Note: You can download your Instagram content from your smartphone in the same way.
Instagram says it could take up to 48 hours, but normally it doesn't take more than an hour or two. You can only request a data download every four days, so plan wisely.
Bookmark images on Instagram
If all you want to do is save images to view them later, you don't need to download them to your device — you can just bookmark the ones you like.
This feature makes your favorite grams easy to access, but unlike downloading them, you'll only be able to access them within Instagram.
Here's how to do it on your browser or Instagram App.
Step-by-step instructions:
1. Launch Instagram on your device and find the image you want to save and click the bookmark button below the photo if you are using App, or if you are in the browser click the bookmark button below the bottom-right corner of the image description to save it.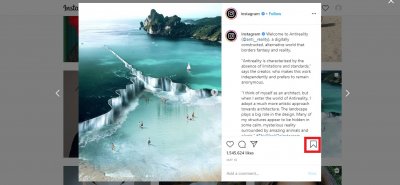 To see all the saved images in the Instagram App, head into your profile, tap the menu icon in the top-right corner, and select the "Saved" option. And for the browser, head into your profile, and select the "Saved" option, as shown in the picture below.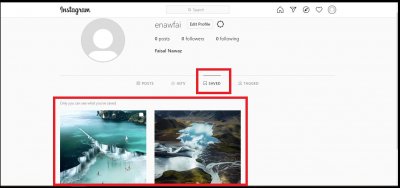 Downloading Instagram Photos using DownloadGram
DownloadGram is a web tool and can be used on desktop computers as well as mobile devices. As this is a website, it doesn't require downloading any software.
Step-by-step instructions:
Visit Instagram's website and find the image you want to download.
Click the "…" icon (three horizontal dots), which will bring up a few options.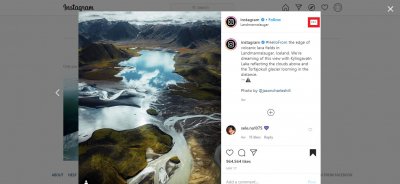 Select the "Copy Link" option. It will copy the URL link of the required photo.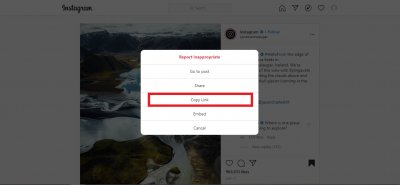 The next step is to visit DownloadGram's website at www.downloadgram.com.
Paste the link into the text box. Click "Download", followed by the "Download image" to download the image on your device's local storage.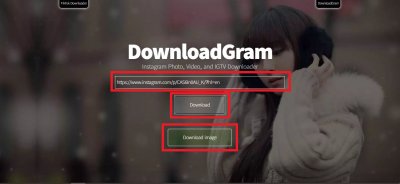 Note: Follow the same steps on your smartphone device to download Instagram photos.
Downloading Instagram Photos using Application
There are multiple applications available in the market but for giving example we are using 'FastSave for Instagram' app.
Visit the Google Play Store and download the free 'FastSave for Instagram' app.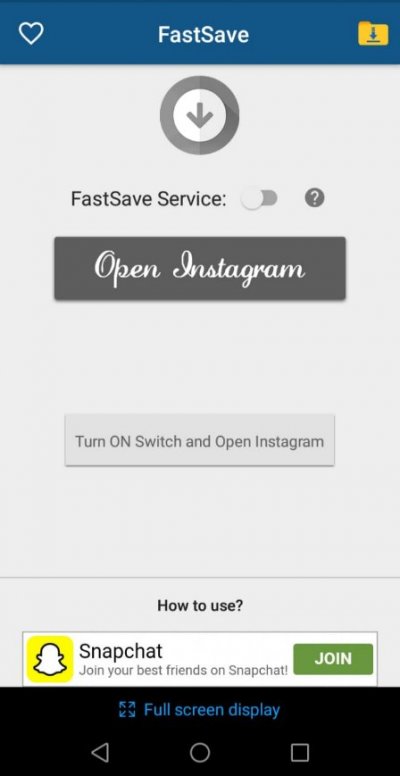 The next step is to launch the app, toggle on the "FastSave Service" feature, and select "Open Instagram".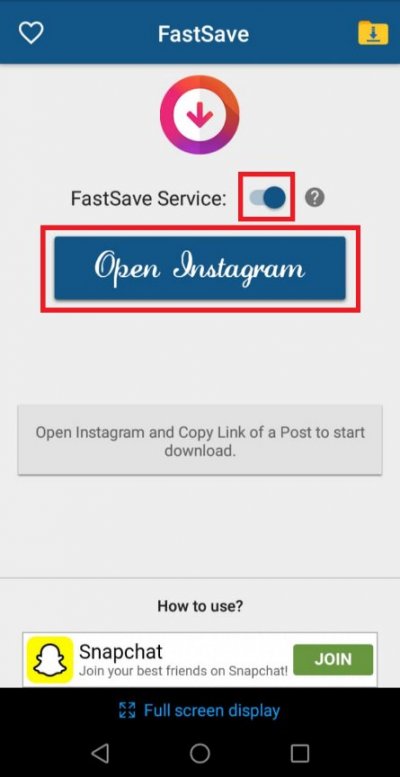 Find the photo you want to download, then just tap the icon above the image you want to download (three vertical dots).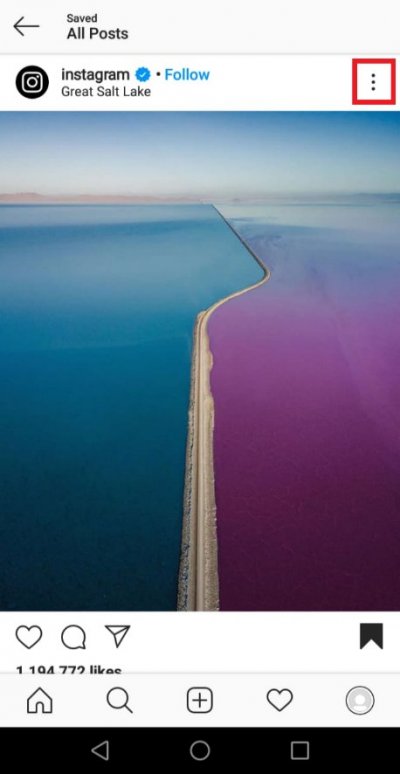 Choose "Copy Link", and the app will download the image automatically.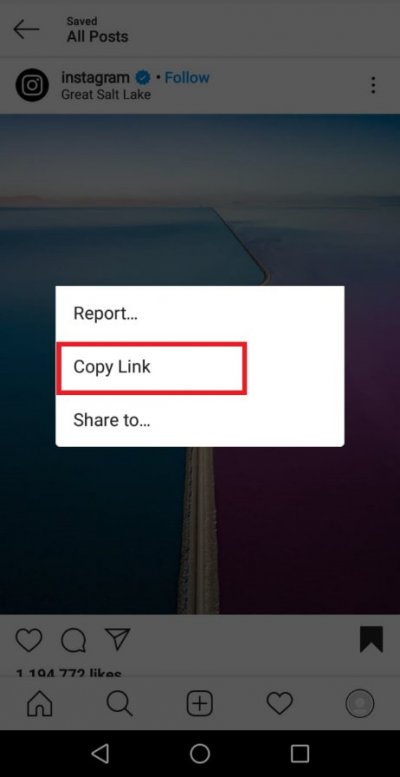 You can see all your downloads within the app by tapping the icon "My Saved" on the top-right corner of the screen. The image will also be stored in your phone's local gallery.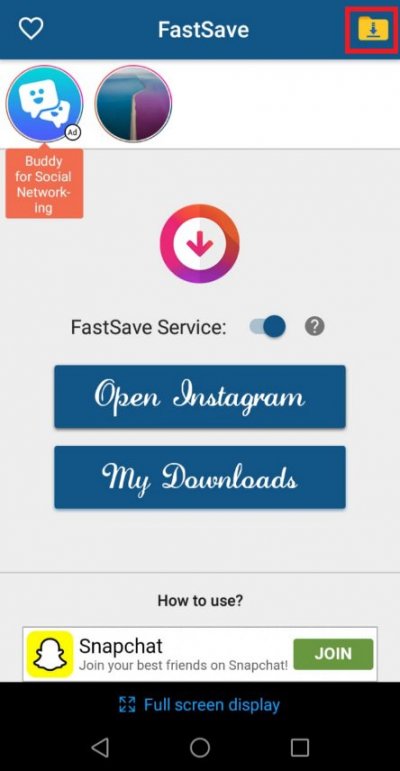 Though using the third party App it is much faster than using the web tool but the question is — are these third-party Instagram apps actually safe?
Some of those third-party Instagram downloaders may be perfectly secured but many of them entail you to log in to your Instagram account and allow the app to get into your account data. This may open up your account to potential hazards — so — it's securer to go with downloading photos using just the URL and an online web app or Instagram's own account download tool if you need to save all of your content.
Finally, the most important thing before going to any of the ways — don't forget to respect other users' content. If an image is not yours — you shouldn't download it just because you can download it. There is a better way to ask before you download it. It's useful to see Instagram's detailed outline of its copyright policy.
---
Other posts