Who Has The Most Followers On TikTok
In just the past few years, TikTok went from an unknown App to an exploding social media platform in popularity among younger internet users.
One of the fascinating aspects of TikTok is that most followed accounts on TikTok were none-celebrities. Thanks to these young content creators who fuel TikTok with their — homemade videos — trending sounds — hashtag challenges, and in return TikTok raised these youngsters from nothing to biggest social media stars of our time with millions of followers. This distinction puts TikTok in a league of its own.
Right now, everyone is getting into TikTok, just dreaming to get famous, get loads of followers, and becoming a celebrity of this magic world. But some individuals have made it – those with millions of followers. Few of them crossed the milestone of a huge 50 million followings and even traversed 60 million – yeah! this is real.
Getting inspired right?
But who are the people doing masters with the TikTok?
Who are the most followed TikTok users?
Let's take a look…
We are going to list Top-Ten Most-Followed-individuals on TikTok.
1. Charlie D'Amelio @charlidamelio
112.9M Followers          9300M Likes          1782 Videos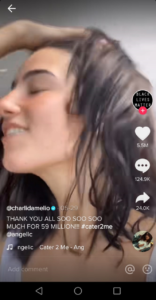 Reigning Queen of TikTok (a title given to her by the NewYork Times).
She's at the top of our list with the following of gigantic 61.7 million TikTok users.
Though only 16 years old — this young star Charli D'Amelio has mastered the TikTok fan arena. The most famous TikToker of 2020 so far. She posts mainly dance videos. The talented dancer had over 4.3 billion likes across all of her videos — after joining the App just 11 months ago.
2. Zach King  @ZachKing
60.6M Followers          742.7M Likes          283 Videos
Zachary Michael King — 30 years old an American TikToker has 42 million followers with 364 million likes for his just 203 videos.
He is also a filmmaker and a Youtube star. The legend got famed for his magic vines short video clips edited in a tricky way that it looks that he is doing the magic. He calls his videos digital sleight of hand.
Look at his stats... Wow!
If he maintains his same pace to grow up in TikTok — he will snatch the top slot very soon.
3. Addison Rae Easterling @addisonre
80.6M Followers          52.4B Likes          1443 Videos
Addison Rae Lopez Easterling — only 19 years old — an American social media magnet — jumped to the third position in the list of most followed individuals on TikTok very quickly. Her TikTok name is Addison Rae.
This dance star punching away above her age and piled up 44 million followers and more than 2 billion likes on TikTok as of June 9, 2020.
— She will crush her TikTok challengers 
4. Loren Gray  @Lorengray
52.0M Followers          2.4B Likes          2474 Videos
Loren Gray Beech — 18 years old — American singer and social media personality is the forth-most-followed character on TikTok. This young star is popular in almost every social media platform. She has — over 68.2 million followers — across all of her social media platforms with — 44 million — only in TikTok.
She as a singer, musician, and actress successfully engaged her followers with all her flavors. She posts a ton of videos on TikTok.
5. TikTok's official account @TikTok
42.9M Followers          221.4M Likes          100 Videos
Carrying the 5th slot TikTok's official account has 42.9 million followers. Videos posted by this head account are mostly about describing new App features, guides, and HQ inside occasions.
6. Riyaz Aly  @Riyaz.14
42.2M Followers          1.9B Likes          N/A Videos
Riaz Aly — an Indian social media star — stands sixth in the top ten most followed individuals list on TikTok. The seventeen-year-old teenager came to fame in TikTok without any supporting push from other social media sites — as usually happens with other TikTok celebrities — who direct huge traffic from their other social media sites like Youtube and Instagram to TikTok. His this quality distinguishes him from other best TikTok performers.
The topmost Indian TikToker doing masters in lip-syncing. He has 42.2 million TikTok followers with 1.9 billion Likes to date.
7. Baby Ariel  @Babyariel
33.4M Followers          1.8B Likes          2142 Videos
Baby Ariel — real name Ariel Rebecca Martin: 19-years-old American actress, singer and social media superstar — the winner of the Teen Choice Award for Choice Muser in 2016 and 2017 — starring in the Disney movie Zombies 2 — and one of the most influential personalities of the internet in 2017 as recognition of Time magazine;
Not finished yet — she is also renowned for her lovely video clips on TikTok and she stands firmly on seventh with — 33 million TikTok followers. She puts a lot of videos on TikTok and has 1.8 billion likes.
8. Spencer X @spencerx
32.7M Followers          777.1M Likes          931 Videos
28-year-old SPENCER X is a famous American professional beatboxer — who is sponsored by Monster Energy & Break Free Worldwide. His real name is Spencer Polanco Knight. He also has his Youtube channel and Instagram account. In TikTok, he is the best known for his beatboxing videos and recently got space in the top ten most followed individuals on TikTok. He is in the eighth position with 32.7M followers.
9. Faisal Shaikh @mr_faisu_07
29.9M Followers          1.8B Likes          N/A Videos
Faisal Shaikh — an Indian actor and model is known for his lip-syncing comedy video clips.  Also called Mr. Faisu is holding the ninth position with 29.9M followers and 1.8B Likes
10. Brent Rivera @brentrivera
28.7M Followers          790.3M Likes          727 Videos
The tenth position in the list is occupied by Brent Rivera with 28.7M followers. He is known for his prank video clips on TikTok.
Brent Austin Rivera is an American YouTuber, social media personality, and actor. He played the roles of Alexander in Alexander IRL and Issac Salcedo in Light as a Feather. He is the co-founder and CEO of Amp Studios, a talent incubator and content group.
These follower numbers were taken at the time of publication on the 25th of May 2021. For live stats on who is the most followed person on TikTok, see TikTok realtime here.
---
Other posts